- - - - - - - - - - - - - - - - - - - - - - - - - - - - - - - - - - - - - - - - - - - - - - - - - - - - -

Ten Finalists Selected in
(05-29-2006)

Ten Finalists Selected in "Design Dale's Ride" Contest
Public to Vote on Winning Design May 20-29

SAN DIEGO, May 24, 2006 - Ten finalists have been selected in The UPS Store® "Design Dale's Ride" coloring contest. The contest, which was open to submissions from April 1 to April 29, offered kids ages 5-to-12 a chance to design this year's The UPS Store/Toys for Tots #88 Ford, which NASCAR legend Dale Jarrett will race in November.

From May 20 to May 29, the public is invited to vote online for their favorite design at www.theupsstore.com.

The ten finalists, chosen out of more than 2,500 contest entries, include:

* Annabelle H., Napa CA, age 12
* Colin G., NY, age 10
* Gracie V., WA, age 9
* Hannah W., PA, age 10
* Jaret J., IN, age 8
* Kyle K., MI, age 10
* Lindsay M., VA, age 8
* Mohnish R., NJ, age 9
* Quinlan S., WA, age 11
* Victoria S., TX, age 10


"We received some very creative entries and I'd be proud to race a car featuring any one of these designs," said Jarrett. "I'm glad we're conducting a public vote to help determine the winner because otherwise, I'd have a tough time choosing just one!"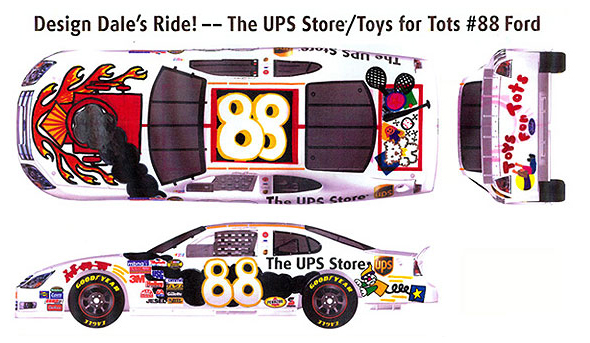 A panel of judges including representatives from The UPS Store and UPS Racing selected the finalists. The contest winner will be determined by online voting (25%), and a panel representing The UPS Store (25%), UPS Racing (25%) and Dale Jarrett, Inc. (25%).

The winner will receive a trip to the Pepsi 400 in Daytona Beach, Fla., on July 1 for the unveiling of the car; a hometown viewing party to watch the car race on Nov. 5 at Texas Motor Speedway; a custom-fit, autographed racing suit to match the one Dale will wear, and a Crayola® prize pack including Crayola Color Explosion™, Crayola Twistables™ and Crayola Erasable Markers. Additionally, the winner's school will receive 10,000 free copies from The UPS Store along with an art supplies package for the art department, courtesy of Crayola.

For additional information about the coloring contest, visit www.theupsstore.com.

About The UPS Store
The UPS Store locations are independently owned and operated by licensed franchisees of Mail Boxes Etc., Inc., a UPS company. With more than 5,700 locations around the world, The UPS Store and Mail Boxes Etc. brands together comprise the largest network of retail shipping, postal and business service centers. For additional information, visit www.theupsstore.com.

About The U.S. Marine Corps Reserve Toys For Tots Program
The Marine Toys for Tots Foundation, an IRS recognized 501 (c) (3) not-for-profit public charity, is the authorized fund raising and support organization for the Marine Corps Reserve Toys for Tots Program. The Foundation provides the funding and support needed for successful annual toy collection and distribution campaigns. The foundation is located at Marine Corps Base, Quantico, Va. Local Marine Corps Reserve units and volunteer organizations collect and distribute toys in more than 520 communities covering all 50 states, the District of Columbia and Puerto Rico. For more information, visit www.toysfortots.org.

# # #

Contact:

* Brandyn Jennings, The UPS Store
858-642-7968