- - - - - - - - - - - - - - - - - - - - - - - - - - - - - - - - - - - - - - - - - - - - - - - - - - - - -

Interview with UPS Racing
(06-28-2006)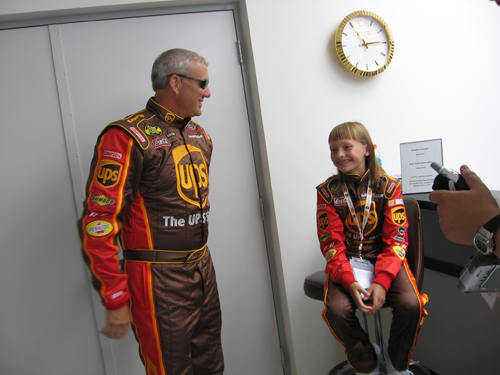 Interview with "Design Dale's Ride" contest winner Annabelle Huffman

We sat down with the "Design Dale's Ride" contest winner, 12-year-old Annabelle Huffman, to discuss her reaction to winning the coloring contest, her inspiration for designing the car, and what she's most excited about.

Q: What did you say when you found out you won the contest?
A: "Wow! I'm going to Florida!" And that I was one of thousands of entries. It makes me feel excited to have won something this big."

Q: What was your inspiration for the car design?
A: I made the car into a train because the Toys for Tots logo is a train, and trains are fast and so are cars, so why not make them into one thing?

I put the jack-in-the-box on the fender because it's a toy and it's funny to have something hanging off the end of a car to make it look fast.The flames make the train car look like it's going really fast, and I drew smoke because that's what trains usually have as they're moving.

Q: I hear your Grandma Tootie is a big Dale Jarrett and NASCAR fan?
A: My Grandma Tootie is a VERY big NASCAR fan. She likes Dale Jarrett so much that she has magnets of the #88 on her refrigerator, Christmas tree ornaments, t-shirts, coffee mugs, blankets, computer accessories, and flags at her house.

Q: Why did you enter the contest?
A: I wanted to try something new. I've never designed a car that will be on TV before.

Q: What are you most excited about?
A: I'm most excited to meet Dale Jarrett. It's the farthest away from home that I've ever been. I'm glad UPS had the contest because otherwise I would not have ever been able to go to Florida and meet Dale Jarrett.

Q: What was your reaction to seeing your design come to life?
A: "Wow! That's my car. I made that car!"

Q: What do you think about all the Crayola art supplies you and your school received?
A: When the kids at my school get the new art supplies, they will be very, very happy because that is exactly what they needed.